When you have made the decision of where to buy your caravan, you will find yourself faced with another equally major decision – what caravan model is the best and which style is going to accommodate your needs.
Choosing the best caravan model to buy can be just as exciting as picking the perfect spot to locate it. The perfect holiday home should not only be stylish and comfortable; it must meet your needs in terms of functionality and affordability. Choosing the best caravan model to fit your requirements can be an overwhelming task when you consider the wide range of options on the market today.
However, at North Lakes, we have a degree of experience when it comes to what you may need and unlike most parks, we keep a supply of caravan models on location to suit every budget. Having a supply of holiday homes on-site means that if you choose to buy one of these caravan models, your holiday can begin sooner as there is no waiting time for it to be delivered!
That said, we urge you to book a visit with us, as seeing a holiday home in person gives you an exact idea of what to expect rather than browsing an endless supply of brochures or websites. Remember you are likely to invest your hard-earned money in your second home, and at North Lakes we want to make sure you spend it wisely. Below we have listed a sample of caravans and lodges* that we are confident provide everything an owner needs for their escape from reality.
Willerby Caravans
Willerby has been making caravans for over 75 years and is a team committed to creating superior living spaces for its customers. They are an award-winning company based in the UK and employ over 1200 people. They state their homes are four walls that give you the freedom to explore, relax, unwind, and escape. Willerby caravans are built with longevity in mind and therefore make perfect pre-loved holiday homes. There is also the expectation that when it comes to upgrading your caravan, your Willerby model will retain some of its value making it a perfect investment.
The Willerby Malton is a luxury two-bedroom caravan ready to be moved to a location for the right buyer. It has all the space you expect from a Willerby, a modern kitchen, floor to ceilings windows, and doors to the front of the caravan, allowing you those exquisite views across the lake. The L-shaped kitchen is a delight for any chef, and the living room, kitchen, and dining area is open plan for that contemporary feel. The Willerby Sheraton is a prime example of a pre-loved caravan that has been well looked after and is ideal for a new owner. It is a desirable unit because of its clever design and quality fixtures and fittings. You can take advantage of the bespoke decking we offer and step from your living space right outside to enjoy the vistas of the 22-acre lake and the fresh Lake District air. Speak to us today if you think a Willerby Caravan model is the best choice for you.
Swift Caravans
For over 55 years, the Swift Group has been redefining caravanning as a lifestyle. Their luxury holiday homes, and touring vans have led the way in creating top-of-the range experiences for their customers.  They offer more than just static caravans and lodges – they provide an opportunity to live life on your own terms.
The Swift Burgundy is one of the most popular caravan models in the Swift range and makes an excellent choice of caravan models to buy. Its versatile living space is ideal for groups or families with lots of seating, and front doors that step straight out onto your bespoke decking. The Burgundy caravan model also has plenty of storage.
The Victory Lakewood is a beautiful holiday space and we think you will be delighted when you see this luxury lodge in person. Its muted beige interior evokes calm and tranquility and is perfect for those looking to escape the hustle and bustle of modern life. When you purchase this lodge, it is already situated on a lakeside plot, with uninterrupted views across the water, and a beautiful glass frontage decking exterior. We cannot help but think the Victory Lakewood is the epitome of minimalist style, centered in the heart of the Lake District.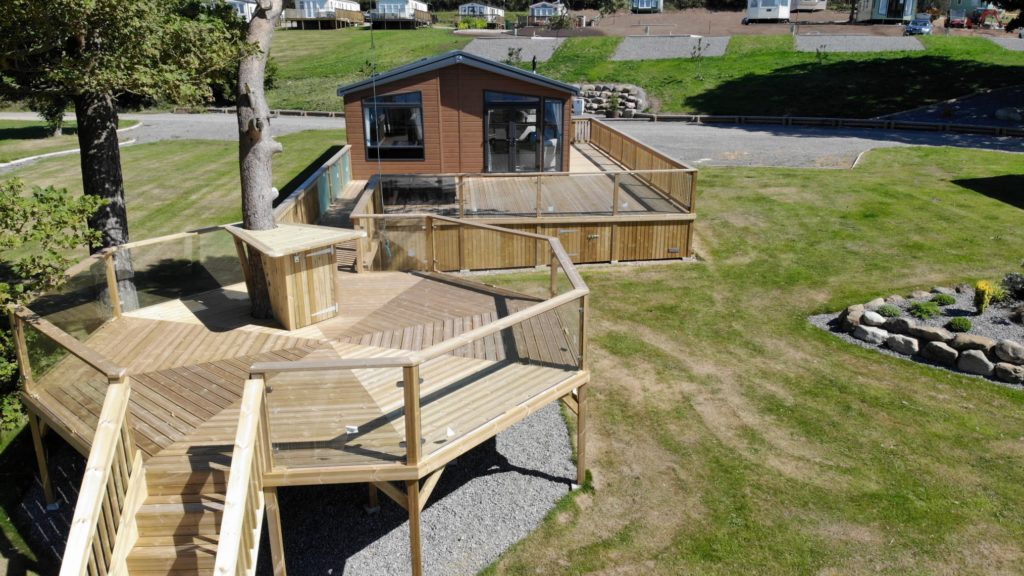 Swift Luxury lodges
Swift Lodges are the ultimate in holiday home luxury, and a visit to our site is necessary if this is something you are considering as an alternative to a caravan model. These lodges are special in that they all have a lakeside location, affording panoramic views across the North lakes. The size of the plot, views, and our hidden gem of a park must be seen in person to be appreciated.
We also endeavor to make your lodges as personal to your requirements as possible and help make your requests a reality. The sky is the limit, and our friendly team are waiting to cater to your needs, so be as imaginative as you desire – you'd like a Hot tub? No problem. You'd like a Sauna? A secluded beach built? Bespoke decking? All – no problem!
The perfect holiday home is a visit away!
Our site is a unique space for you and your family to really make the most of your holiday, so that when it is time to choose which caravan model suits you best, you can make the decision with seamless interactions and minimal fuss. We are also an 'owner on-site' caravan park, and you will always find someone able to help or answer a query. North Lakes has been built out of passion and aims to create the perfect work-life balance for everyone, so do not hesitate in scheduling an appointment and visiting us soon!
*We are delighted to stock a selection of Willerby model and Swift Static caravan models and Swift Lodges on our site and encourage you to book a visit as soon as possible as we cannot guarantee that any caravan models you see and like here will be available.