If you've decided to purchase a holiday home in the Lake District, you've made a fantastic choice.
Home to some of the most stunning scenery the UK has to offer, the Lake District is the perfect place to relax, recharge, and make happy memories with your friends and family
But with so many holiday lodge parks in the Lake District to choose from, what makes a good holiday park?
And how can you decide which is the right park for you?
There's lots to think about when it comes to choosing a holiday park
In this blog, we've rounded up five things the best holiday parks in the Lake District have in common in order to help you make your decision easier!
5 things the best holiday parks have in common
1. Stunning scenery
As we mentioned above, one of the biggest reasons why people decide to holiday in the Lake District is the scenery – so it goes without saying that a good holiday park will be set in beautiful surroundings!
At North Lakes Country Park, as soon as you open your curtains in the morning, you'll be greeted by the stunning sight of our 22-acre lake, as well as breath-taking vistas of the Northern Lake District, the Solway Firth, and the Dumfries and Galloway mountains.
If that's not enough to tempt you, as well as the lake, our park is also home to 50 additional acres of woodland and open areas to explore and enjoy. In fact, you'll be hard pushed to find more beautiful scenery.
2. Location, location, location
The Lake District is a pretty big area. In fact, it spans 2,362km ² – so it goes without saying that there are plenty of caravan parks to choose from! But you'll certainly struggle to find a better location than North Lakes Country Park.
Known as the Lake District's hidden gem, our park is located in a beautifully calm and tranquil location. Despite our secluded location, we're just 30 minutes away from Bassenthwaite Lake, an hour away from Ullswater Lake, and 1.5 hours from Lake Windemere. The pretty Victorian seaside town of Silloth is just four miles away too – plus there are plenty of other attractions nearby as well.
So, you can enjoy the best of both worlds when you purchase a caravan at North Lakes!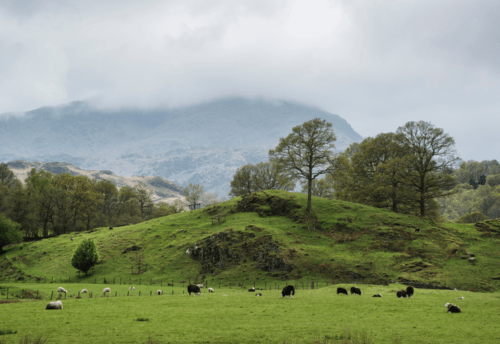 3. Fantastic facilities
Another thing that the best holiday lodge parks in the Lake District have in common are excellent amenities. Your luxury lodge or static caravan should be a true home away from home – which means you'll want to have all the facilities you need easily available too.
For example, can you park easily? Is there a shop on-site? What is the phone signal like? How about Wi-Fi? These are all important things to consider when it comes to choosing a holiday park.
At North Lakes, for example, we have double park bays, piped gas, fibre optic broadband and more to ensure the optimum comfort for our visitors at all times.
4. Comfortable caravans (or lodges!)
They say comfort is king – which is why the best holiday parks all pride themselves at offering complete comfort and luxury to their guests.
At North Lakes, there's something to suit every taste, from cottage-style caravans to state-of-the-art static homes – but the one thing that all of our holiday homes have in common is how incredibly comfortable they are.
All of our caravans and lodges benefit from beautiful decor that you can customise to create your own home away from home, cosy beds, and the most comfortable furniture. Plus, outside, there's also decking that's perfect for dining al fresco whilst taking in the views of the surrounding lake – bliss!
5. A sense of community
When you purchase a holiday lodge or static caravan, you're making a real investment. But it's not just a lodge or access to the park you're investing in – you are also benefitting from joining the community of owners on the site.
Here at North Lakes, we have a fantastic community of likeminded holiday homeowners. In fact, everyone here is so friendly they often meet up to enjoy each other's company – and they are always eager to welcome new lodge owners into the fold, too!
So, if it's community you're looking for, you'll most definitely find it at North Lakes.
Want to arrange a viewing?
If you'd like to discover the beauty of North Lakes Country Park and see for yourself why we are considered one of the best holiday lodge parks in the Lake District, get in touch with our team today to arrange your viewing of the caravans available for sale.