If you love visiting the Lake District, buying a static caravan or holiday lodge in the area is one of the best decisions you can make.
Owning a caravan or lodge not only grants you the luxury of visiting this beautiful part of the UK as often as you please and with whoever you like, but will actually save you money on hotel or B&B bookings in the long run!
What's more, owning static caravans or luxury holiday lodges in the Lake District eradicates the typical stresses that come with going on holiday, as everything you need will be at your lodge ready and waiting for you, so you can focus on relaxing and enjoying the holiday experience as soon as you unlock your door.
However, no two caravans or holiday lodges are the same, and there are many different options out there in terms of price, location, holiday parks and more that you'll need to take into consideration before you choose your forever home from home.
That's why our experts at North Lakes Country Park have written the following step-by-step guide to static caravans and luxury holiday lodges in the Lake District, so you can dive into your search for the perfect lodge with confidence!
6 steps to getting your perfect Lake District static caravan or luxury lodge:
Step 1: Establish your budget
The first thing you need to bear in mind is that every caravan and holiday lodge is unique. Most if not all of them vary in size, level of decoration (or flexibility to redecorate), and additional features (such as decking and appliances), and their prices will vary as a result.
So, before you begin your search, establish a budget to help you narrow down the options. To give you a general idea, prices for our caravans at North Lakes Country Park start around £55,000 and our luxury lodges start at approximately £160,000.
Step 2: Decide which area of the Lakes you want to stay in
The Lake District National Park is a lot bigger than many people realise. In fact, it's larger in square mileage than London! This means that, if you don't have a particular area of the Lakes in mind that you'd like your home from home to be in, you'll have to do a bit of research to see what's on offer and where.
This will predominantly depend on how you plan to spend your holidays. Are you looking for somewhere you can enjoy lots of solo excursions? Romantic retreats with a partner? Or action-packed adventures with your family?
Once you've established where abouts in the Lake District you want your static caravan or holiday lodge to be in or nearby, you can move onto the next step…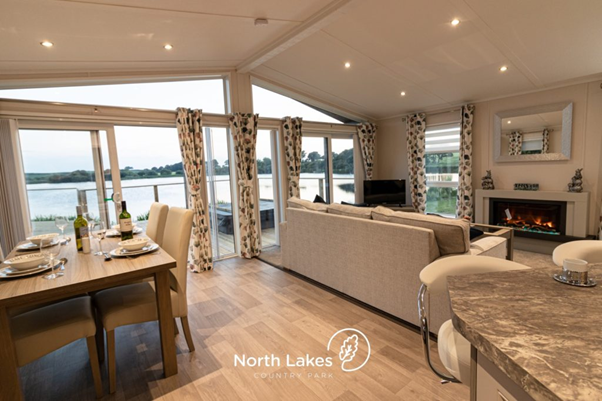 Step 3: Select a handful of holiday parks
With a specific area in mind, you can now consider the different holiday parks available in that area.
During your search, be sure to narrow down your selection to a shortlist of parks that:
have positive ratings and reviews from its current holiday homeowners
are preferably open all year round so you can visit as much as you want
provide all the features and facilities you'll need
have suitable security and safety measures in place
Have an onsite team who you can call upon should you need anything
Step 4: Visit the parks on your shortlist
This is a particularly important step in the luxury lodge selection process; while it's all very well seeing photos of these parks and reading the information available on their respective websites, it's a totally different experience seeing them in person!
During your visit, be sure to check off everything you see that matches up to what was said on the website. Ask the person showing you around questions about anything you're unsure of, or that you think might be missing.
Most importantly, however, you should follow your gut instincts. How does being in the park make you feel? Are you relaxed, happy, and at ease? Or tentative and unsure? Does being there make you feel excited and at home, or does it have you hoping that you can leave as soon as possible?
No matter how amazing the static caravans or holiday lodges at a park are, if the park itself doesn't meet your needs or expectations, then it's not the place for you. You'll be visiting on multiple occasions, after all, so you need to be sure that you're happy with every aspect!
As an example, our quiet and peaceful park at North Lakes is set in 70 acres of grounds with a stunning 22-acre lake in the middle, it is universally loved by our current homeowners – but you really do have to see it for yourself!
Step 5: Choose your holiday lodge
Once you've found the perfect holiday park in the perfect location, it's time to choose your luxury lodge!
As noted above, every caravan and lodge is different, and a big investment, so you should really take your time in making this final choice. With that in mind, ensure the luxury lodges you look at include the following:
A welcoming living area – this is likely to be the first thing you see when you open the door, so it should give you that "wow!" feeling as soon as you walk in, from the furnishings all the way down to the colour scheme.
A fully kitted-out kitchen – check for cooking appliances, fridge and freezer space, plenty of cupboards… everything you need to prepare delicious meals during your visits!
A spa-like bathroom – including shower and/or bath, and plenty of space to store your toiletries.
Comfortable bedrooms – after all, no holiday is complete without a good sleep every night!
Central heating throughout (including underfloor heating as a bonus!).
Intelligent storage (not just cupboards and wardrobes, but integrated spaces in the furniture, such as under the bed).
Outdoor seating areas (what would a luxury lodge be without views of the Lakes?).
WiFi access.
A good energy efficiency rating (good for the planet – and for your purse!).
Step 6: Make your purchase and set a date for your first trip!
Once you've found the static caravan or luxury lodge of your dreams, the team at your park of choosing will be able to support you with making your purchase. Then all that's left to do is pick a date and pack a bag ready for your first visit!
At North Lakes, we're proud to offer some of the most beautiful and welcoming luxury holiday lodges in the Lake District.
Located in the Victorian coastal town of Silloth with stunning beaches along the Solway Firth, close to a plethora of amazing attractions and things to do and surrounded by some of the most incredible views of the Lake District, we're sure that both our park and the caravans and lodges we have available to purchase will give you the wow factor you're looking for.
To arrange a viewing of our park, caravans and lodges, or to ask any questions you may have, get in touch with our friendly team today!